Frequently Asked Questions
Q. Is there a parking fee?
A. Self parking is $18 per day and valet parking is $25 per day. Parking for oversized vehichles is $35 per day.
Q. Can I order room service?
A. Yes. Room Service is available from 7 AM until 11 PM.
Q. Is there a resort fee?
A. All transient reservations will be charged a $22 per night resort fee which will appear as a service charge. The resort fee includes:
Continuous shuttle to all Walt Disney World® Theme Parks during normal park operating hours and select special events
Complimentary delivery to the hotel of purchases made at Disney® Theme Parks
Complimentary Coffee in the lobby from 7 AM - 10 AM
2 bottles of water per day
Local calls
800 calls
USA Today newspaper in the lobby
In-room refrigerators
In-room microwaves
In addition, the the Holiday Inn Orlando – Disney Springs® Area proudly offers:
Extra Magic Hours Benefit
Disney FastPass+ up to 60 days before arrival
Complimentary Wi-Fi
Kids Eat Free ages 11 and under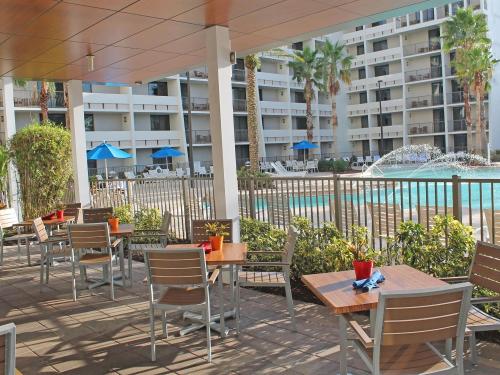 Q. Do you offer complimentary breakfast?
A. No. We do not offer complimentary breakfast unless you choose one of our breakfast-included packages. However, we do offer an excellent breakfast buffet in The Palm Breezes restaurant for a very affordable price.
Q. Do you have a restaurant on site?
A. Yes. Palm Breezes Restaurant is open daily for breakfast, lunch and dinner.
Breakfast: 7 AM to 11 AM (until noon Saturday & Sunday)
Lunch: 11 AM to 2 PM
Dinner: 6 PM to 11 PM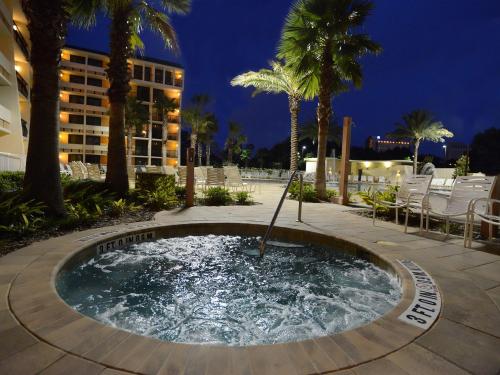 Q. Do you have rollaway beds?
A. No. Each room has either 2 Queen beds or 1 King bed with a sofa bed or chair. Cribs for infants are available and are no charge.
Q. Do you have non-smoking rooms?
A. All 323 rooms are non-smoking in the hotel.
Q. Do you have ADA rooms?
A. Yes. The Holiday Inn is in full compliance with ADA guidelines. We have several guestrooms fully equipped with wheelchair-accessible features. If you have any additional questions about this, or to request an accessible room, please call us at 407-828-888 or 1-800-HOLIDAY.
Q. Can I request an early check-in?
A. Our regular check-in time is 4 PM. Please contact the front desk to request an early check-in. All requests will be based on availability.
Q. Can I request a late check-out?

A. Our regular check-out time is 11 AM. We can extend your check-out for an additional fee. Please contact the front desk to request a late check-out. All requests are based on availability.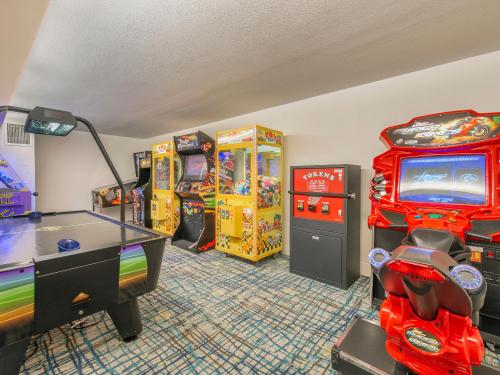 Q. Do you offer any packages with passes to Orlando Attractions?

A. Yes, we feature packages that include Walt Disney World® attraction tickets. Click here to purchase room & ticket packages online at a secure website. Tickets are also available Online through Disney or at the concierge.
Q. How many IHG Rewards Club Rewards® points do I need to redeem for a Reward Night?

A. IHG Rewards Club Rewards® members need 40,000 points to redeem for a Reward Night reservation. Please call IHG Rewards Club Service Center at 1-877-860-1373 or book online at www.ihgrewardsclub.com.
Q. Do you have meeting space?

A. Yes. Our professional, experienced staff are here to ensure your event is a memorable experience. We feature a total of 11,000 square feet of function space with a spacious foyer for pre-function events and state-of-the-art audio/visual services. For more information, please contact our sales office during normal business hours, Monday through Friday, 9 AM to 5 PM.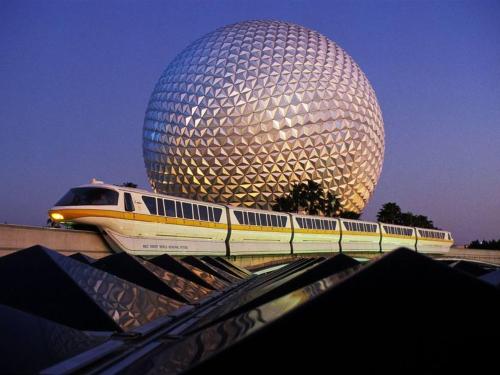 Q. Is there a charge if I ship a package to the hotel?
A. Yes. There is a handling fee for all packages shipped to the hotel. The most direct service to the hotel is Federal Express or United Parcel Service (UPS). The USPS does not deliver mail to the hotel, and in some cases, mail packages have not been available due to weekend closure. We highly recommend you not use USPS delivery due to these delays.
The hotel charges a Package Receiving Fee depending on the size and weight of the package, with the fees listed below:
Small/Medium Box - $5.00/pkg
Large Box - $10.00/pkg
Cases - $20.00/pkg
Pallets and other large items - please contact hotel directly for pricing information

Guest packages will be held for 30 days from the day the packages arrive at the hotel. For any special requests, inquiries or further information, please contact christina.peck@hiorlando.com.
For group packages: The hotel accepts delivery of envelopes, cartons, pallets (with restrictions) and miscellaneous items for convention guests. There is a standard handling and processing charge (based on weight) on all inbound/outbound packages and freight shipments. To confirm shipping fees, please contact your Event Services Manager.
Q. Does the Holiday Inn allow pets at the hotel?
A. Pets are not allowed at the Holiday Inn with the exception of guide dogs for the visually impaired.
Best Friends Pet Care — operated by Best Friends Pet Care, Inc. — is located across from Disney's Port Orleans Resort at 2510 Bonnet Creek Parkway, Lake Buena Vista, FL, 32830.
Best Friends Pet Care offers accommodations, activities and amenities for your furry friends. Services also include grooming and doggy day camp.
With the exception of service dogs for Guests with disabilities, pets are not permitted in the Theme Parks or Disney Resort hotels, or on the Disney Resort hotel or theme park buses. Pets may, however, stay in the air-conditioned facility, which is a member of the Pet Care Services Association.
Best Friends Pet Care: 877-4-WDW-PETS or (877) 493-9738 or, visit Best Friends Pet Care online.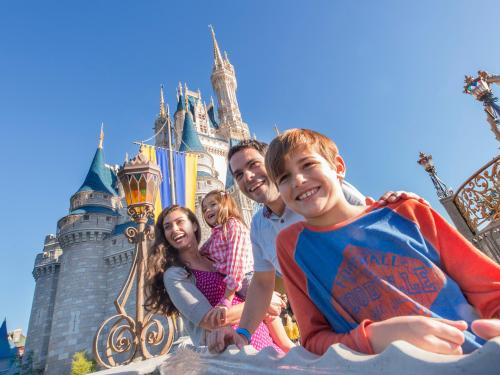 Q. What services are located around the hotel?

A. The Lake Buena Vista Area has many services located within a few miles for our guest's convenience:

Grocery: Gooding's Supermarket (.5 mile), Winn-Dixie Supermarket (1 mile)
Pharmacy: Walgreen's Pharmacy (1 mile), CVS (2.5 miles)
Banks/ATM: Bank of America (.5 mile), Chase (.5 mile)
Places of Worship: Mary, Queen of the Universe (1 mile), Southwest Orlando Jewish Congregation (3 miles), Jama Masjid of Orlando (3 miles)