Star Wars: Galaxy's Edge to Open August 29 at Disney's Hollywood Studios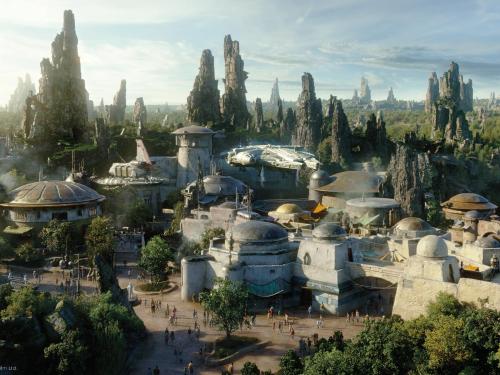 For the first time ever, there's a place where you can live your very own Star Wars™
story. Come discover yourself in a whole new land where a galaxy far, far away unfolds all
around you. Welcome to
Star Wars: Galaxy's Edge
, now open at
Walt Disney World®
Resort.
You'll be immersed in the alluring offerings of a mysterious outpost that's a haven for
scoundrels, rogues and smugglers. Around corners and through back alleys, you can encounter
strange creatures and alien languages. Touch ancient antiquities from across the galaxy. You
can build your own droids and a custom lightsaber. And be sure to drop by the cantina to
sample the local beverages and curious concoctions. This marketplace summons your senses to
life like never before.
On
Millennium Falcon: Smugglers Run
, you'll board the
Millennium Falcon
, where
legends have been made and new ones are about to be created. You and your crew are part of
a covert mission that directs you to take control of the fastest hunk of junk in the galaxy. The
engines rumble as the
Falcon
blasts off as you enter hyperspace and into the adventure you've
always dreamed of. Along the way you'll face excitement around every turn and sway, plus the
looming threat of the First Order!
Next, it's
Star Wars: Rise of the Resistance
, opening later in the year. Steady your
nerves and summon your resolve—because you and other Resistance recruits have boarded a
transport that has been captured by a Star Destroyer. In an instant, you'll be caught in blaster
fire from stormtroopers surrounding you. And if that's not enough, you'll discover how huge
the excitement can get when you round a corner and discover a towering AT-AT—with its lasers
pointed…Right. At. You. At last, a sudden red glow cuts the darkness and the crackle of a
lightsaber announces an inevitable showdown with Kylo Ren himself.
So, raise a glass of Blue Milk. Because soon the time will come to live your adventure in
a galaxy far, far away at
Star Wars: Galaxy's Edge
.
Disney's Hollywood Studios
®,
Star Wars
: Galaxy's Edge and its experiences are subject to capacity.
Star Wars
: Rise of the Resistance is not available at opening and will open later in the year.
A First Look at The NBA Experience at Walt Disney World Resort Coming to Disney Springs in Summer 2019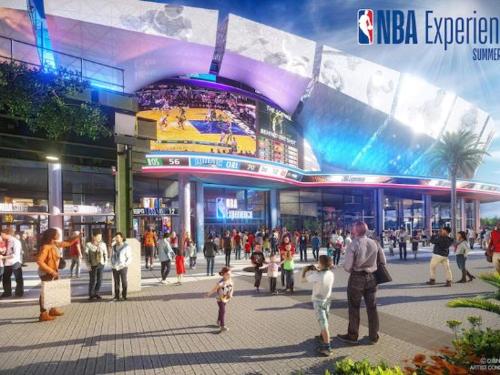 "October 19, 2017 - As the 2017-18 NBA season tips off, we want to give you a first look at the new NBA Experience at Walt Disney World Resort coming to Disney Springs.
Inspired by the modern architecture of new NBA arenas around the country, the building design exudes the same spirit and energizing impact, while creating an unmistakable and entertaining connection to the NBA in a way that only Disney can.
It's one of several ways Disney Springs is still growing and adding new experiences to delight and entertain our Guests.
"We are inspired by the design of the new building and the energy that it will bring to the West Side of Disney Springs," said Senior Vice President of Disney Springs and ESPN Wide World of Sports Complex Maribeth Bisienere.
The state-of-the-art space will include interactive games and competitions, immersive experiences, a retail store and an adjacent restaurant."
Article courtesy of the Disney Parks Blog.
Work Continues On The 'Guardians of the Galaxy'-Themed Roller Coaster at Epcot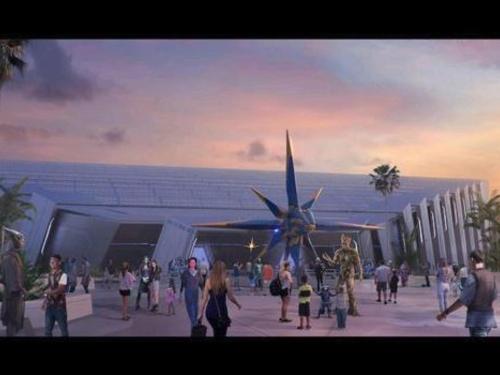 "May 4, 2018 - Today we have an exciting update to share with you from Future World at Epcot.
Earlier this week, 960 trucks' worth of concrete was poured to create the foundation of what will soon take shape as Epcot's mammoth "Guardians of the Galaxy"-themed attraction. The attraction is on track to become one of the world's longest enclosed coasters, and to house it, a new facility is being built adjacent to the existing Universe of Energy building.
Inspired by the films, the "Guardians of the Galaxy"-themed attraction will expand on the original vision of Epcot's Future World, with an epic storyline being developed by Walt Disney Imagineering in close collaboration with the original filmmakers."
Article courtesy of the Disney Parks Blog.